After having so much fun with our
fly swatter painting
last week, we were in the mood for some more
outdoor art
. Painting with water balloons was pretty easy to do and my son really liked this activity. The results weren't what I expected, but (as always) I think the process was more important than the product.
To inspire us, we read another book illustrated by Stephen Gammell called
The Burger and the Hot Dog
, a collection of
funny food-related poems.
Painting with water balloons was the perfect activity to replicate Gammell's splattery style. I used a plastic medicine syringe to put paint in some water balloons.
Filled them up (HATE this part - should've gotten better balloons. Do they sell the kind that fill and tie themselves?)
Drew loved it. Lainey's involvement was limited to squeezing a balloon and becoming irate when it popped in her hands.
Stomping the balloons:
The color was very light, I should have added more paint and less water. Either way, Drew wasn't much interested in the colors. He just liked breaking the balloons.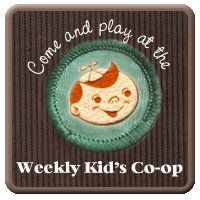 How've you been getting messy this week? I'd love for you to link up. I'll be sharing your ideas throughout the week on my facebook page and the Kid's Co-op Pinterest Board.