The students of Sandy Hook will soon be returning to school in a new building. The Connecticut PTSA wants to welcome them back to a winter wonderland by decorating their new building with handmade snowflakes. It's a small way to show the students of Sandy Hook how many people care about them. The wonderful thing about this project is that even the youngest kids can help. (Find other ways to help
here
.)
Send finished snowflakes by January 12, 2013 to:
Connecticut PTSA
60 Connolly Parkway
Building 12, Suite 103
Hamden, CT 06514
Every snowflake is unique and beautiful, and there's no wrong way to make them. The only materials you need are paper and scissors. But if you're looking for more inspiration, these posts from
last week's Kid's Co-op
are a great place to start: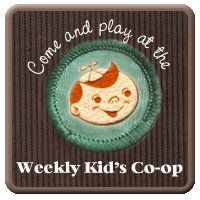 Thanks for linking up your kid projects and activities each week!