It's never too early to become a scientist! Check out these fun science ideas for preschoolers from the Kid's Co-op:
1. Make
dinosaur fossils
at Lessons Learnt Journal
2. Observe
rock changes
at Organic Aspirations
3. Do
an erosion project
at Mama Rosemary
4. Explore
leaf color changes
at The Pleasantest Thing
5. Discover
changing sound
at Simple and Joyful
6. Engage in
small world space play
at Happy Whimsical Hearts
7. Create
a space sensory bin
at Life with Moore Babies
8. Play
comet catch
also at Life with Moore Babies
9. Raise
some insects
at Hey Mommy, Chocolate Milk
10. Learn about
sea turtles
at Carrots are Orange
11. Make
yarn germs
at Hey Mommy, Chocolate Milk
12. Create
a homemade compass
at Enchanted Homeschooling Mom (this requires a sewing needle so you'll have to decide if your preschoolers are ready to try this with help)
I pinned these all to the Kid's Co-op Pinterest Board (and you can find a featured button on my
buttons page
if you'd like one.)
Thanks so much to everybody who linked up last week! Can't wait to see what you've got this week!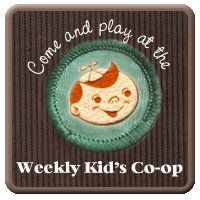 Linking to
The Sunday Showcase
I Can Teach My Child