While I wasn't prepared to commit to a full fledged garden, I thought it would be a good experience for the kids to grow something this summer. We decided to use the flower boxes on our deck to plant some carrots, grape and cherry tomatoes, and strawberries. The kids helped me do the planting on Mother's Day.
I also made some garden markers from their handprints. These are made from craft sticks, craft foam, and hot glue so I don't know how long they'll last outside, but at least we'll get to enjoy them for a little while.
Our carrots were the only thing we planted from seed. I chose a short variety hoping they'll do okay in the container.
We already have a tiny strawberry!
We planted both grape and cherry tomatoes in an effort to get the kids to like at least one kind!
Of course, we also checked out some gardening books from the library:
My Garden
by Kevin Henkes is about a little girl who helps with her mother's garden and imagines what a garden all her own would be like. Our favorites were the jelly bean bush and the strawberries that glowed in the dark.
The Carrot Seed
was the perfect book for us! A little boy plants a carrot seed. Despite everyone telling him it won't grow, he takes good care of it and it grows into one
huge
carrot. I think we'll be happy if we get just one carrot, and it doesn't even have to be all that big!
My son really liked
The Tiny Seed
by Eric Carle and asked lots of questions about seeds and how things grow. We liked looking for the tiny seed on every page, watching it escape many dangers, and eventually seeing it grow into a huge flower.
What have you been up to this week? I'd love for you to link up any kid friendly projects! I'll pin some favorites to the Kid's Co-op Pinterest board!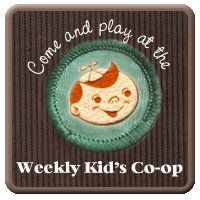 Linking to
Gluesticks,
Bear Rabbit Bear,
Link It Up Thursday,
Kitchen Fun with My 3 Sons,
JDaniel4's Mom,
Family Ever After,
Six Sisters' Stuff,
A Pinteresting Party,
Delicate Construction,
What's in the Gunny Sack?,
Tip Junkie,
Tip-Toe Thru Tuesday,
ABC and 123,
Whimsy Wednesday,
Garden Hop