What mama doesn't love a little handprint? We made some really simple and cute Mother's cards.
A handprint on the top and bottom of the card:
Fill in the letters with markers using each finger as the base of a letter:
That's it. In honor of Mom's Day, we checked out two mom books from the library. I ended up reading them myself because my preschoolers were not interested. I don't think these were intended for preschoolers anyway, but they are super cute for older children and moms.
M.O.M. (Mom Operating Manual)
is a funny "owners manual" to keep your Mom running in tip-top shape. It's divided into chapters like
Daily Care and Maintenance
which tells us "Remarkably, despite their size, moms can sleep on as little as three inches of bed." and advises that if your mom is trying to lick the bottom of her coffee cup, you should insist that she take a nap.
Troubleshooting
describes what to do when a mom, who is normally the most adaptable human model on the planet, has reached her limit (often a direct result of overuse). One warning sign of a malfunctioning mom is "eerie silence" and the quick fix for that is to call Grandma and have her come get you for a while. Funny for moms and kids.
31 Uses For A Mom
is a list of all the things moms are. My favorites are bank, thermometer, and page turner.
What have you been up to this week? I'd love for you to link up any kid friendly projects! I'll pin some favorites to the Kid's Co-op Pinterest board!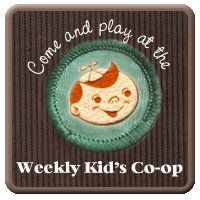 Linking to
Crafty Moms Share,
Read Explore Learn,
Tatertots and Jello,
Family Ever After